Our Practice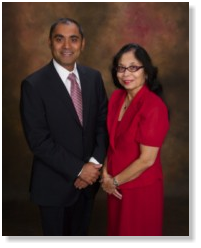 We are a small, family oriented dental practice (one of the oldest in Tempe) that is committed to restoring and enhancing the beauty of your smile! It all started out with a dedicated and caring mom of two, Dr. Dhanlaxmi (Dr. D), back in 1980. She opened her own dental practice at a time when it was a male-dominated profession. Amazingly, she started out as the first female dentist to establish a solo dental practice in Tempe, Arizona. Her vast experience throughout the years has been able to provide our new and existing patients with an exceptional quality of dental care.

Then in 1997 her son, Dr. Birju Raj (Dr. Raj) united with his mom in the practice of dentistry by joining the dental practice. Thus was created a unique mother and son dental practice. This added to the already high standards and uncompromising excellence of Dr. D's existing practice and brought with it a whole new and fresh approach. Together as a team, this excellence in personalized dental care enables us to provide quality dental services to patients of all ages and their families with state of the art technology.
Focusing on You
Our focus is on you, the patient! We provide you with comprehensive treatment planning, and modern techniques including state-of-the-art restorative and cosmetic dentistry to achieve your optimal oral health. And, should a dental emergency arise, we are there for you 24 hours a day.
Your Safety
Your safety in our office is a top priority. To protect our patients and ourselves, we strictly maintain sterilization and cross contamination processes using standards recommended by the American Dental Association (ADA), the Arizona State Dental Association (AZDA), the Occupational Safety and Health Administration (OSHA), and the Center for Disease Control (CDC). Our doctors and staff constantly receive continuing education and training in the use of the latest in infection control techniques and protocols. We also pride ourselves with the use of modern, high-tech sterilization equipment.