Our Staff
Melinda - Office Manager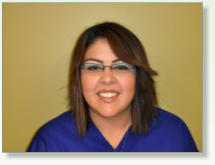 Melinda is the front office manager at Dr. Merchantís office. She has been working at the dental office for more than 7 years.

Melinda graduated from Apollo college in 2004 and has over 10 years of dental assisting experience. She became a dental assistant to fulfill her passion of helping others. In fact, Melinda started out her career as a motivated and caring dental assistant but is now utilizing her people skills as office manager.

When she is not at the office, you may find her at Starbucks having a latte or at Disneyland (which is her favorite place to visit).
Liliana - Lead Dental Assistant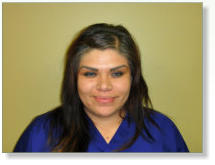 Liliana is our lead back office dental assistant. She has been working with Dr. Merchant for over 6 years.

She graduated with a degree in dental assisting from Apollo college back in 2007. Liliana is a very sweet, kind, and hard working person. She proudly accepts the challenge in making sure the back office is running smooth and efficiently.

Liliana is currently continuing her education at SMCC and her favorite treat is chocolate.