Cosmetic Dentistry
Dental Implants | Composite Fillings | Porcelain Crowns | Bridges | Porcelain Veneers | Teeth Whitening
The technology and services behind cosmetic dentistry are more advanced than ever before. Cosmetic dental procedures are also more affordable. With a few visits to the Merchant Dental office, you can finally get the changes you've always wanted to your teeth, and you will smile with confidence. Our accredited dental practice is family oriented and run by a well trained team of office staff and dental hygienists. At the head of our team are two very qualified doctors: Dr. D and Dr. Raj. This mother and son team are highly respected cosmetic dentists who use modern techniques and state-of-the-art technology.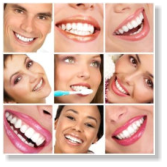 We can improve your teeth by providing the following treatments:

• Changing the size, alignment, and shape of your teeth
• Filling in gaps between your teeth
• Correcting your bite
• Brightening, whitening, and lightening your teeth
• Repairing chipped, broken, or decayed teeth
• Replacing missing teeth

We will work with you to create a dental plan that addresses the individual needs of your smile. Our team strives to minimize the discomfort and anxiety you might be feeling, and will answer all of your questions until you are satisfied. Contact us today to schedule an appointment, and start working towards the movie star smile you have always dreamed of.